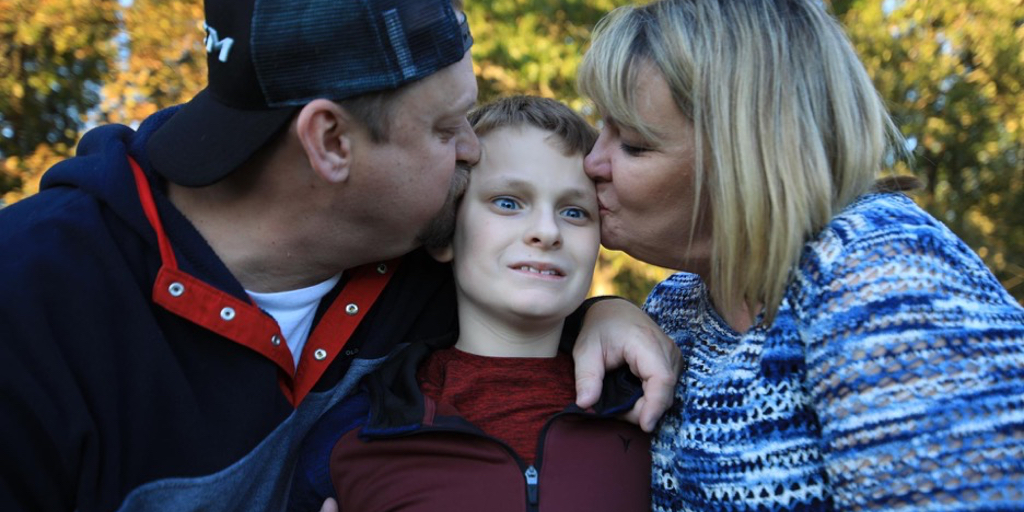 Within a minute of sitting down at the kitchen table, Amy's phone rings. It's the school nurse. "I hope it's not another seizure," says Eddie, her husband, hands clasped together, staring downward. Their facial expressions quickly transition from the "welcome-to-our-home" smiles, to looks of doubt and worry. The nurse confirms their fears that Hudson, their youngest son, had a seizure at school.
"We'll be up to get him," says Amy before she hangs up—a note of acquiescence in her voice. Eddie lifts himself and grabs the car keys. Luckily the school is less than 15 minutes away. "Well, this is how it goes," he quips as he heads out the door.
Hudson's seizures are a relatively new chapter in his experience living with Batten disease, CLN3, a degenerative neurometabolic disorder that progressively causes severe neurological symptoms including blindness and seizures. Hudson has been mostly blind, though he's retained some peripheral vision (his "sweet spot"), for the past five years, but didn't have his first seizure until six months ago, at the age of nine.
Amy's eyes wander around the room in contemplation. As Hudson's mother, she has often gone into "warrior-mode" to find answers and protect her son, especially since his diagnosis in January of 2015. "After a seizure like this, he's going to be really out of it. He loses his bearings. He'll bang into walls. He gets very frustrated." Her unwavering focus and support for Hudson's day-to-day needs is astounding: maintaining a full-time job, spending time with Eddie, her older son Grant and caring for two dogs, all while exuding gracious warmth and down-home hospitality.